MORE THAN MAINTENANCE - DISCOVER THE P3 DIFFERENCE
It's not a branding element; it's what we believe in; it's who we are.
From the moment you place a call to us, you'll experience a real person on the phone to answer your call – day or night.  Our team of dedicated service and maintenance technicians is committed to ensuring your standby generator system is ready for any emergency. 
Read on to learn about the P3 Difference and what makes us different.
Our parent company, Power Pool Plus, is recognized worldwide as an expert in providing power generation solutions to the refrigerated transportation industry. With a manufacturing facility in Alpha, New Jersey, our team has been building and servicing large industrial-sized diesel generators since 1990. So we know them inside and out – engines, generators, transfer switches, and more.
This experience translated easily to standby generators' service, namely the healthcare industry's critical power needs. The P3 Generator Services brand was born nearly 25 years ago when a group of local nursing homes reached out to us for help in maintaining their generator systems.
And while the emergency power needs of healthcare facilities remain a large percentage of our customer base, our focus has grown to include over 500 generators on contract across industries such as: 
Water Companies
Municipalities
Commercial
Light Industrial
and Residential
Each of these customers depends on the experience and professionalism of P3 Generator Services to protect their investments, whether they be people or property, from the negative effects of ground power failure.
SO, in the event of a power outage at your residence or business, our experience allows us to provide you with a level of know-how, unlike any other generator service provider.
Our commitment to responsiveness
In the field and the office, we have the right people and processes to support your emergency power needs successfully.
Our customer service approach goes beyond only meeting your needs in the field with timely response and quality technical service. We believe it is our responsibility to provide professional and prompt replies to any inquiry into our office, whether by phone or email.
Our goal is to be your long-term partner in generator maintenance. We will not oversell our service. However, we will offer logical suggestions based upon experience and specifically designed to enhance the life span of your current generator system.
Factory tech experience WITHOUT factory-direct rates
Over 99% of all generator failure call-outs do not require factory-level involvement to resolve. For these repairs and the routine maintenance you need, P3 Generator Services can provide affordable factory tech expertise to get your generator working and keep it operational for years to come.
Our team holds certification in major generator systems including Generac, Kohler, Caterpillar, and John Deere.
Resource to support ANY make or model generator
Whether you own a Kohler, MTU, Cummins Onan, Cat Olympian, Generac, Detroit, Taylor Power, or any other generator package, the team at P3 has relationships with all generator manufacturers and the ability to support your needs with quality service and parts.
This is WHERE we service generators
The P3 Generator Services response area includes the areas highlighted in the map below. However, this is not an exhaustive list and we frequently service beyond these boundaries.
Contact us with questions regarding your service location is located outside of these areas:
New Jersey Counties
Sussex County
Passaic County
Bergen County
Monmouth County
Camden County
Atlantic County
Cape May County
Cumberland County
Gloucester County
Salem County
Burlington County
Essex County
Hudson County
Hunterdon County
Mercer County
Middlesex County
Somerset County
Ocean County
Union County
Warren County
Pennsylvania Counties
Pike County
Wayne County
Susquehanna County
Wyoming County
Lackawanna County
Luzerne County
Carbon County
Schuylkill County
Berks County
Chester County
Monroe County
Montgomery County
Bucks County
Delaware County
Lehigh County
Northampton County
Philadelphia County
Delaware Counties
New York Counties


Richmond County
Rockland County
Orange County
Sullivan County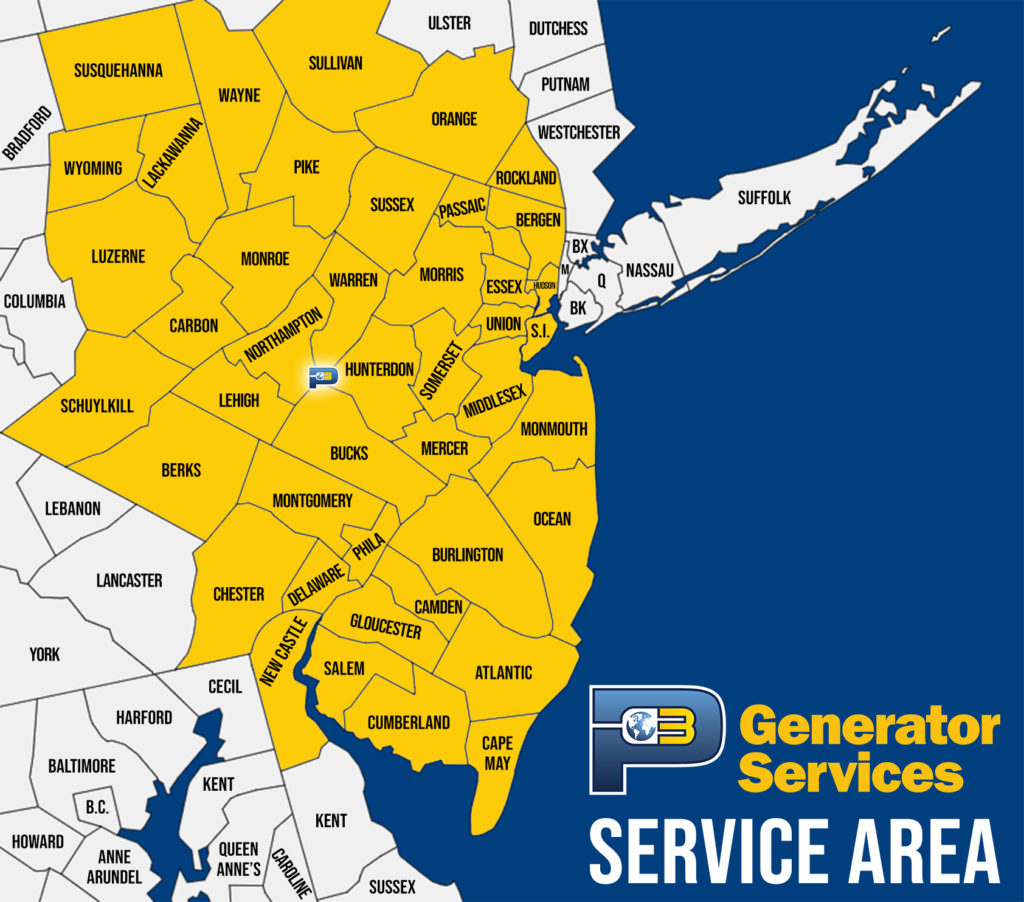 Discover the P3 difference. Learn more about how P3 Generator Services can provide better service and price than what you are currently experiencing.