P3+ Plus Generator Maintenance Subscription
Complete Generator Maintenance Plans for Your Home or Business!
Imagine this. It's 2 AM during a winter blizzard. The power's out, and your generator won't start. Bad enough, right? But wait, there's more. You call the first service company you can Google only to discover they have no technicians available for days. You go down your list of numbers – the same result. Who knows how long the power will be out, and you need your generator running now.  This is where the rubber meets the road in quality generator service. And having one of our generator maintenance plans will not only provide proactive routine maintenance but the assurance that help is on the way from a trusted partner 24/7.
At P3 Generator Services, we tailor our maintenance contracts to meet each customer's unique requirements. That's because commercial and residential generator users have different needs.  Here they are broken down into two categories – Full Major Services and Minor Service Inspections. 
Major Services are generally performed on a yearly schedule and include a complete generator inspection plus engine oil and filter change.
Service technicians will inspect your generator, including all belts, hoses, wires, and enclosure conditions.  The generator will be run up to operating temperature and a building transfer load test will be done to ensure proper generator functionality. Other areas of special interest will be reviewed and recommendations noted in our final report. 
Minor Service Inspections
Minor Service Inspections complement the yearly Major Service.  Depending on customer preference, or as required by local regulation, the Minor Inspection is semi-annual or quarterly and includes everything in a Major Service without the engine oil and filter change. 
Adding a Minor Inspection to your maintenance contract plan provides peace-of-mind assurance that your emergency power system has been reviewed at least twice per year by a professional generator service technician.
The P3 team is highly trained in all aspects of generator maintenance and repair. And whether you chose a single yearly Full Major Service or a Major/Minor combination package, we will provide quality service and support on any generator power system, including; Generac, Gillette, Cummins Onan, Kohler, MTU, Caterpillar Olympian, and many others.
Contract customers enjoy these added benefits
How often should a generator be serviced?
P3 Generator Services recommends at minimum semi-annual visits to include one Major and one Minor Inspection per year for our commercial customers.  However, some facilities with more critical electrical power needs may require quarterly or even monthly inspections.
Residential generator owners will be satisfied with a single Major Service per year. However, semi-annual inspections afford many homeowners the added assurance that their generator is ready for weather-related power outages any time of the year.
Not sure which service is right for you? Contact P3 Generator Services to discuss which of our generator maintenance plans fit your needs and stays within budget.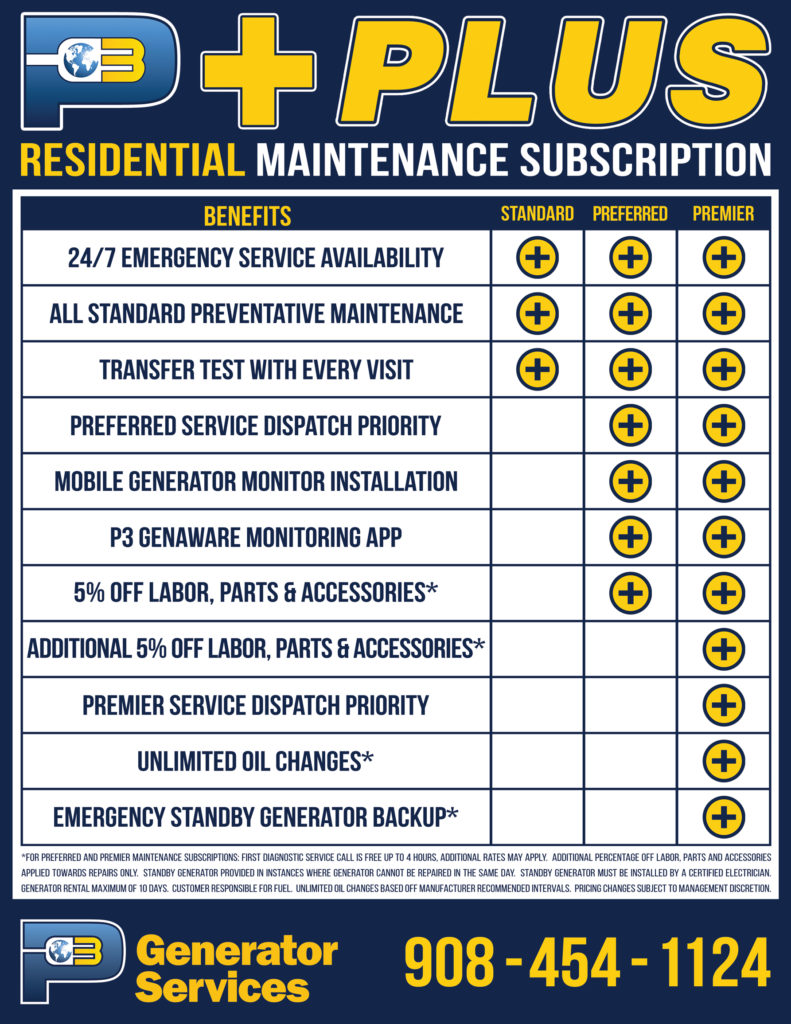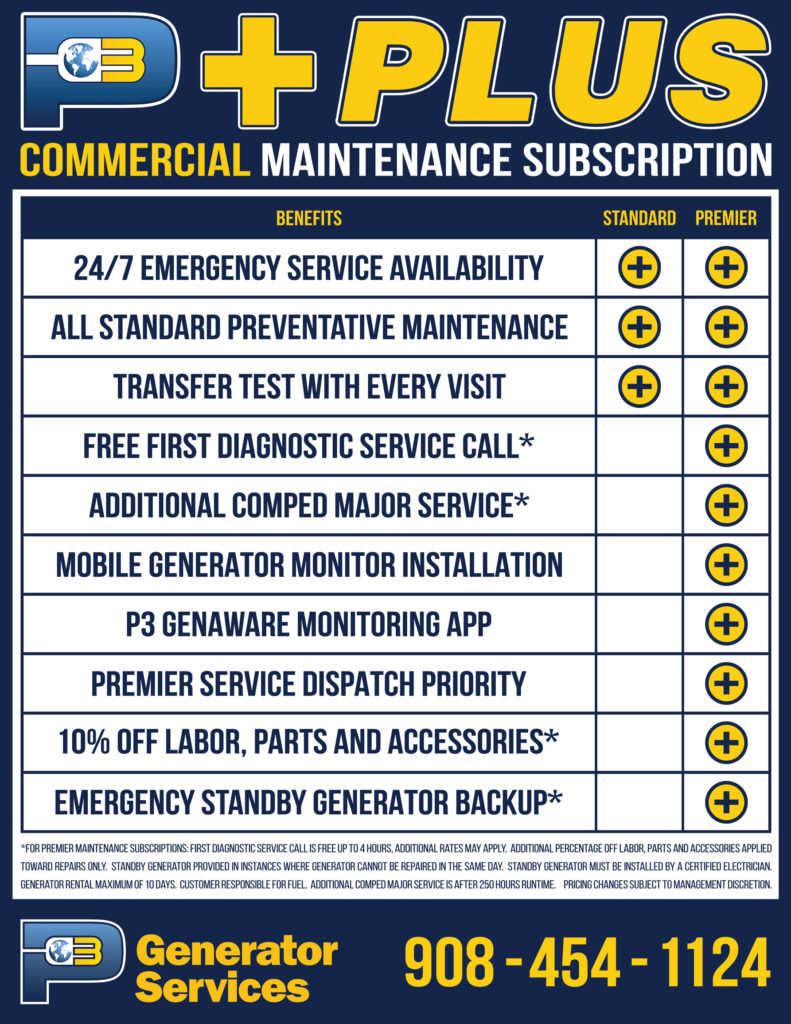 With a contract from P3 Generator Services you can rest assured that your generator is in good hands.