PEACE-OF-MIND SOLUTIONS THROUGH REMOTE GENERATOR MONITORING
Did your generator exercise properly?
Is there a problem that would cause it not to start when needed most? How would you even know? A remote monitoring system can give you and your team the peace of mind in knowing your generator is operating correctly – anytime, day or night.
Know the condition of your generator 24/7 through real-time notification alerts of potential problems sent directly to your phone or email inbox with , a remote generator monitoring system exclusively provided by P3 Generator Services.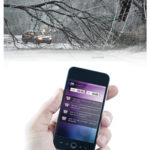 Compatible with any brand of generator P3 GenAWARE installs easily, supports analog inputs, and, depending on your system, provides dozens of alarms to report and monitor generator functions.
A user-friendly online portal enables your team to access all real-time and historical data for comprehensive records documentation allowing your team to manage state compliance mandates better.
Whether your facility uses 1 or 101 generators of multiple makes and models, P3 GenAWARE is a capable, simple to use remote generator monitoring solution for providing alerts and notifications regarding the health of your generator, facilitating emergency response, and reducing downtime.
P3 GENAWARE CUSTOMER LOGIN
Find out how inexpensive peace-of-mind can be.