Originally Published on 6/08/2015
Is the Air Clean Enough to Test Run my Emergency Generator?
By now most facility managers are well aware that test running their emergency generator on a regular schedule can be affected depending upon whether or not it is a good air day or bad. However,
Are you aware that bad air quality, as defined by the AQI, anywhere in the state, not just at your location, matters to you?
Did you know there is now an easy way to stay informed on air quality prior to test running your generator?
Read on to learn about EnviroFlash, an automated email alert notification system.

First the basics.
Ultimately your facility is responsible for making sure that any test run of your generator is done in compliance with NJDEP rules regarding the operation of emergency generators as it pertains to the reported air quality on a given day.  (For detailed information on the NJDEP Air Quality Permitting Program – go to http://www.nj.gov/dep/aqpp/gp.html)
The Air Quality Index, or AQI, is a daily measure of airborne pollutants that may pose a health concern. As stated on the AirNow website, the EPA calculates the AQI based on five major air pollutants that are regulated by the Clean Air Act: ground-level ozone, particle pollution (also known as particulate matter), carbon monoxide, sulfur dioxide, and nitrogen dioxide.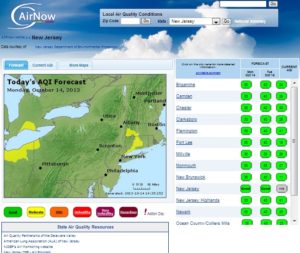 Procedure to follow as developed by the NJDEP:
After 4:00PM on the day prior to test running your emergency generator, the AirNow website should be accessed to determine the Air Quality Forecast for tomorrow as shown in the "Forecast" Column highlighted in Figure 1.
IMPORTANT: Regardless of your location in the state, if ANY region in New Jersey is identified in the Forecast Column as being Unsafe for Sensitive Groups, Unhealthy, Very Unhealthy, or Hazardous, then emergency generator testing cannot be done tomorrow and must be rescheduled for another day.
Remember to re-check the Air Quality Forecast after 4:00PM on the day prior to the re-scheduled date for the air quality forecast.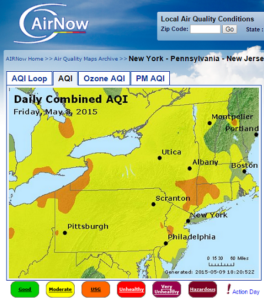 The example in Figure 2 shows that on May 8th, 2015 a small region around Mercer County experienced an AQI that was reported as Unsafe for Sensitive Groups (highlighted in orange on the map) while the rest of the state was reporting Good to Moderate scores. It is important to note that, because of the event on this day, a facility in Cape May still could not test run their emergency generator.
It can be cumbersome to keep track of all this information.  Fortunately, there is an easy way to stay up to date.
EnviroFlash can help.
This system developed through the AirNow.gov website allows you to subscribe to email notification alerts when the AQI exceeds a limit that you can pre-set. This way there is less room for error. Your team can stay well informed should your scheduled generator test run date be forecast at unacceptable air quality levels. This is especially important for generators enabled with automatic run settings. Instructions for subscribing to EnviroFlash can be found by clicking here.
IMPORTANT NOTE:
EMERGENCY GENERATORS CAN BE USED WHENEVER NEEDED FOR TRUE EMERGENCIES, REGARDLESS OF THE AIR QUALITY. The procedures here apply only to normal testing and maintenance usage. They do not apply to emergency usage. (As per NJDEP Website)
Should you have additional questions, please contact the State EPA or P3 Generator Services for more information.