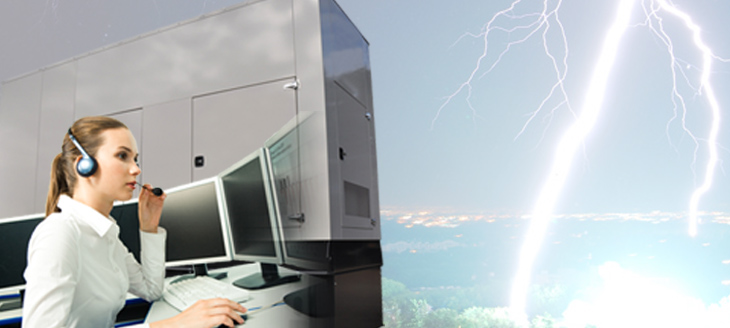 Peace-of-Mind Solutions Through Remote Generator Monitoring
There is probably not a single component in your facility that makes members of your team more nervous than the generator. Yet, it is one of the most important. All anyone really cares about is that it works when it is supposed to. P3GenAware remote monitoring is designed to ease generator anxiety by carrying the burden and making it more manageable for you and your team.

P3GenAware is a pro-active approach to generator monitoring by providing Administrators and Managers visibility into the health of their emergency power systems, especially during crisis situations.
Real-time generator information sent directly to your smartphone, tablet, or PC.
Alerts you and your team of potential problems before they become big concerns.
Enables quicker service response times.
Increases efficiency of technician dispatch by providing insight into the problem ensuring the right tools and parts are brought on-site.
On-line archival of run times and other data for state required documentation.
The P3GenAware system is compatible with ALL major generator brands and has been recognized as an industry leading M2M solution dedicated to enhancing the reliability of generators for over 15 years. P3GenAware prevents 95% of Fail-to-Start events by immediately sending alerts when common problems like these are detected:
Low Fuel Level
Low Battery Voltage
Low Coolant Level
Missed Exercise
Uncleared Alarms
Plus So Much More!
In addition to having critical information in the palm of your hand, there are many additional benefits to having a P3GenAware system installed on your emergency generator(s).
Wireless Monitoring 24/7/365
Time/Date Stamped Event Logs
Data Archiving and Export
Instant Alarm Notifications
Weekly Activity / Status Reports
"Over-the-air" Technology Provides Automatic System Updates
P3GenView Secure Web-based Management
Be proactive. Gain Insight. Be able to better manage power related events with P3GenAware.
To learn more, contact us today!
P3 Generator Services
7 Edge Road, Alpha, New Jersey 08865
(908) 454-1124
Email: info@P3GeneratorServices.com
www.P3GeneratorServices.com