FAQs on generators, generator service, and repair
We speak with a lot of people every day – from our techs visiting customers on-site to phone calls, texts, and social media messaging to our office. These conversations net many questions about generators, generator service, and repairs.
Perhaps you've secretly had some of your own but were afraid to ask.  It's silly you think.
You'd be surprised to know, others have had the same concerns. Remember the saying; The only bad questions are the ones never asked? So we've compiled a small sampling to break the ice. We hope you find this information helpful.
Read on to discover answers to the most common FAQs
How much does it cost to service a generator?
Many factors affect generator service costs.
Location.  But not just the distance from the service provider. Location can also mean where the physical position of the generator at your home or business.  Is it easy for a technician to work on it?  Or is it squeezed in between two walls or fences?  Is it on the roof of a tall building?  Does the technician require help to service it properly due to accessibility limitations?
Generator Size. Larger generators will require more oil, possibly additional filters, and more time to inspect and service the machine.
Type of Service. Generally, most generators will require at least one FULL service per year.  We call this a Major Service to inspect the machine and perform a complete fluid and filter replacement. But many residential customers and most commercial property owners opt for a semi-annual service contract to include a Major Service and a Minor Inspection.  The Minor Inspection includes everything in the Major Service without the expense of the fluid and filter changes performed at alternating intervals.
All these factors play a role in determining the actual labor time and materials needed to work on your generator.  For a price that meets your exact needs, please contact us with as much information as possible.  Having your generator make, model, and serial number handy will expedite the process and help us to provide an accurate quote.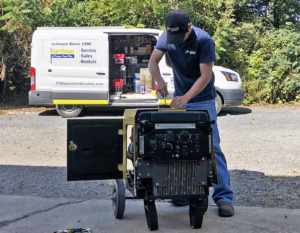 Do you service Portable Generators?
Yes, we do!  We can service them at your location too.  But to save money, most prefer to bring them to our shop located at 7 Edge Road, Alpha, New Jersey.  Generally, our turn-around time is about ten days, but that is subject to parts availability.
I have a generator in my RV.  Do you service motorhome generators?
Why, yes, we do that too. Generators are in the most unusual places – even in rolling habitats like your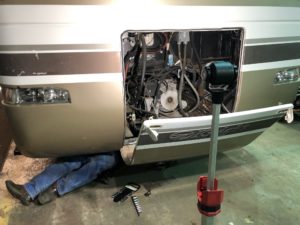 motorhome or RV.  To us, it doesn't matter what it is or where it is.  We can service all generators – including the one in your motorhome.  Bring it in, and we'll make sure your generator is ready for the next road trip.
How often should I service my generator?
A best practice is to have a Major Service performed at least once per year or after every 250 hours of use – whichever comes first.  For peace-of-mind, we recommend that commercial standby generators and many homeowners have semi-annual service that includes a Major Service and a Minor Inspection scheduled in 6-month intervals.
Those that use their generators more frequently may require shorter intervals between each service.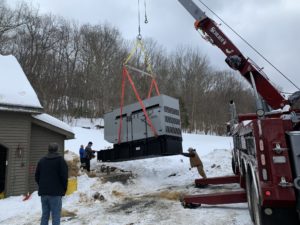 Do you install generators?
In short, yes! P3 Generator Services can provide a quote for your entire generator purchase and installation project. We offer Generac and Gillette generator packages for residential, commercial, and industrial applications.  Allow us to size the right Emergency Power System for your needs.
Do you offer service contracts?
We offer customized generator maintenance and service contracts structured around your unique requirements.  The benefits of having a service contract with P3 Generator Services ensures the fastest 24/7 response during a power emergency.  It also saves you money by contracting at a lower per hour rate than those without a service agreement.
No matter the brand, P3 Generator Service technicians are versed in all generator packages and systems, such as; Generac, Gillette, Cummins Onan, Kohler, Taylor, Volvo, MTU, and others.
How can I stay informed about generator maintenance?
We're so glad you asked.  With frequent changes to generator regulations and recommended service requirements, staying legal and keeping your generator prepared for the next power outage is complicated.  We make it easy to keep up to date.
For general, non-urgent updates – Like and follow us on Facebook
For more urgent communications, we recommend subscribing to our newsletter.  Don't worry; we won't blast you, nor will we give your info to others. Expect no more than one email per month unless emergency information releases are warranted. Click here to join.
Have other questions about generator maintenance?
All you need to do is ask; we're here to help you get the most performance and long life from your emergency power system.